Customer Testimonials
Eric D.
Your staff made ordering and delivery very easy. The driver arrived on time and was very accommodating. Great company and I will use you every chance I get.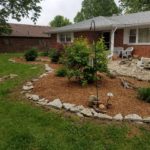 Tom B.
We were well pleased with our transaction with McCarty. The delivery driver did an excellent job going above and beyond what I expected. Thank you.
Paula S.
There is nothing enjoyable about spreading mulch but I want to share my experience with McCarty. I ordered 11 cubic feet of McCarty's Economy Trailmix Mulch on their website on the evening of March 19 requesting delivery on March 21. The delivery driver dropped the mulch right where I wanted it and I was pleased to find that the mulch was nicely sized and clean, with no nasty odor, excess moisture or signs of insects. I'm really glad I chose McCarty's and would recommend them to anyone.
Cathy N.
I just wanted to say how satisfied we are with the recent rock order. We ordered on Saturday night got it early Monday morning. The driver was very nice and professional. Overall just a great experience. We are ordering from you guys from now on and will refer you as much as possible. Thanks again!!
Nicholas R.
It was great. My wife has declared that you are the Amazon of mulch.
Raj H.
It was a nice touch sending us a card thanking us for our recent business with your company. We will be ordering an assortment of stone and gravel shortly and it is nice to know we have chosen a company with excellent customer service.
Dion C.
I called earlier this morning. Great service. Ordered on a Sunday. Exactly what I wanted, dumped where I requested, sooner than I thought that it would be there. I told your receptionist that you guys are my mulch people moving forward.
Lindsay H.
I will HEARTILY recommend you all to anyone. Thanks for the amazing service.
John H.
Thanks for your fine service and quality products.
Rex
Thanks for offering a great product, good price, and fast delivery. We will order another load of mulch soon, probably next week. Have a good Easter weekend.
Stephen E.
Delivered—delivery driver fantastic (dumped @ the desired location)—soil great! Thank you!! Stephen E.
Steven R.
I will not go anywhere else!
Mary W.
Customer service was great. Your company was the third one we had gone to that day and we decided to go with u because of how nice helpful and the price. Thank you!
Lisa A.
I have always been very happy with the products and service that McCarty Mulch has provided me over the years. All your staff from the customer service all the way to your delivery staff are friendly and courteous. I always recommend McCarty to my family and friends.
Andrea W.
We have used McCarty Mulch for over 10 years. They are competitively priced. Their staff is very friendly and professional and they always have what we need and deliver it where we want it.
Sandi H.
We have been a customer of McCarty Mulch for many years. Josh, Jennifer and all of the staff have always been very helpful with our questions, our orders of mulch and delivery to our home. I would recommend McCarty Mulch to anyone!
Keith H.
I have worked with you guys for a few years, and have always been pleased with your service. Hope to continue for many years to come.
Sue J
We had mulch delivered today, did not have enough and a second delivery came right away. Delivery guy did a great job both times. Job complete.
Kim R.
I'm writing this letter to show our appreciation of your company's donation. McCarty's donation to Human Services Inc. Franklin Head Start on August 21, 2014 could not have come at a better time. Our playground was in great need of mulch. Head Start is a program that provides services to children and their families who are low income. We have children in the pre-school that range in age from 3-5 years old. The playground as you could imagine is well loved and used on a daily basis; we have over 80 children that attend on any given day. My staff and I could never have imagined that it would be enough for the entire playground. The mulch that McCarty donated helped in transforming our playground into a beautiful and safer playground for the children to enjoy when they return to school next week.
Mike
It's a good feeling to know you can still get good service in this country and people who truly care about the customer. I will call you with all my landscaping needs going forward, and also refer you to everyone I know. Again Thanks!
R. Johnson
Delivery was prompt, price was fair and driver was courteous and helpful. Thanks for the great service.
Debbie O.
Just wanted to say "thank you!" for your mulch! We got your information at the Flower and Patio Show, compared prices with some other companies, and yours by far was the least expensive. The woman who took my order on the phone was very helpful and patient with me, the delivery date was very soon after I called, and the driver was on time and careful to dump where we needed her to. Will definitely plan to call you next time
Sean C.
Just wanted to say thank you for a job well done. Next day delivery. Delivered exactly where I asked for it to be. Very neat. No issues. Beautiful product. Thank you for doing a great job!!
Christine B.
Thank you so much for your quick dirt delivery. It did wonders for my yard! I put out seed and straw, and have watered it consistently. I now have a lovely strip of new grass! Thanks again.
Jim H.
Beautiful Mulch! Fast & Courteous Service. I ordered 4 yards of mulch in the morning and it was here so fast I couldn't believe it. The driver Bob B. was so courteous to make sure he unloaded it exactly where I wanted. Great Job!
Charles M.
Wanted to let you know that the guy who delivered my mulch and top soil today was great! Very personable, conscious of not driving on grass, getting everything on the tarps etc. It's a pleasure doing business with you. Thanks a lot!